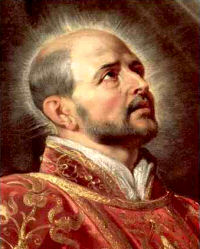 Loyola House
A prayer of St Ignatius of Loyola
Dearest Lord,
teach me to be generous;
teach me to serve You as You deserve;
to give and not to count the cost,
to fight and not to heed the wounds,
to toil and not to seek for rest,
to labour and not to ask for reward
save that of knowing I am doing Your Will. Amen
At St Columba's, we have our own very own House system, where you will compete for points every day as part of our whole school competition. When you join St Columba's, you will be put in one of six different houses, where you will wear your coloured house tie with pride. Regular interhouse competitions and Sports Day will also give you the opportunity to compete for house points. Our houses are named after famous Saints (Becket, Campion, Fisher, Loyola, More, Xavier).
House points are awarded for many aspects of school life, for example:
Attendance
Punctuality
Personal Conduct
Attitude to Learning
Homework
Contribution to the Community